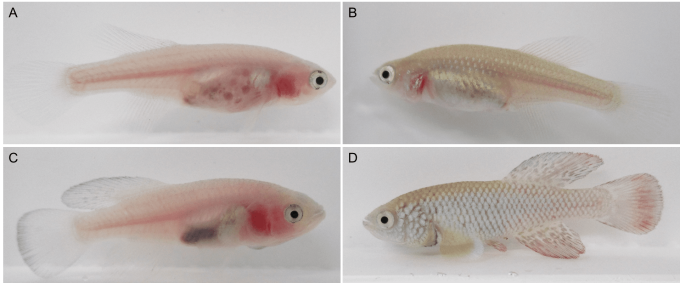 klara and wild type Nothobranchius furzeri. (A) Female klara. (B) Female wild type. (C) Male klara. (D) Male wild type.
Principal Investigator: Christoph Englert
With increasing age, the number of so-called senescent cells in the body accumulates. These cells no longer divide, are found in all organs and are characterized, among other things, by the activity of specific genes such as p16 or p21. Several findings indicate that senescent cells are detrimental, cause age-associated diseases, and limit lifespan. However, there is also evidence that senescent cells may be necessary for regenerative processes. To analyze the role of senescent cells, we would like to generate a real-time indicator for these cells.
For this purpose, we use the turquoise killifish Nothobranchius furzeri, which we, together with two other research groups, have established as a new model in aging research at FLIExternal link. This short-lived fish exhibits various molecular, cellular and phenotypic ageing characteristics that we also know from mammals including humans. Through CRISPR/Cas9-mediated genome editing we have generated animals that are fully transparent, even as adults. In this project we want to use this transparent klara line to generate a real time indicator of senescence and aging. For this purpose, fluorescent markers (GFP, RFP) will be integrated into the p16 as well as the p21 locus using homologous recombination. This will allow the observation of senescence, aging and regeneration processes in living animals. This indicator line will subsequently also be used for intervention studies.
Doctoral researcher: Carolin Albertz, Hanna Mörl
Postdoctoral researcher: Johannes Krug