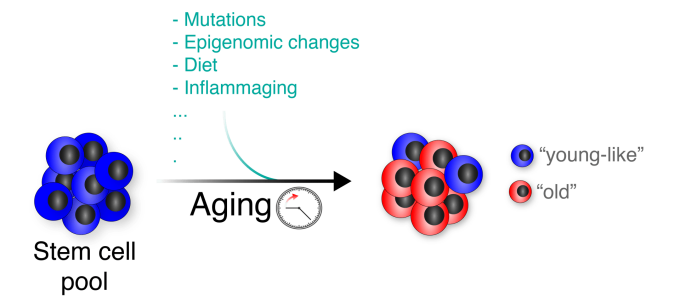 During the aging process, hematopoietic stem cells (HSCs) are confronted with various molecular changes and damages. These challenges, however, do not lead to an uniform aging of HSCs, as "young-like" HSCs can be identified in the old HSC population.
Principal Investigator: Björn von Eyss
Björn von Eyss heads the "Transcriptional Control of Tissue Homeostasis Lab" at the Fritz Lipmann Institute on AgingExternal link (FLI). His work focuses on the role of the Hippo pathway in the context of aging, regeneration and cancer. The Hippo pathways plays a crucial role during tissues regeneration and therefore represents an attractive target for enhancing regeneration in the elderly. Furthermore, his team investigates how aging of affects the two key downstream transducers of this pathway - the transcriptional coactivators YAP and TAZ – and vice versa, how YAP/TAZ impact on aging of tissues and stem cells.
One of the main areas of work represents the aging of hematopoietic stem cells. Here, his research group was able to show that the Hippo pathway plays an important role as part of a failsafe mechanism that protects old hematopoietic stem cells from functional decline. Based on this work, the lab was able to show that one can identify "young-like" stem cells even from an old mouse, which opens new avenues to define functional "epigenetic clocks" in the context of aging. To achieve this, Björn von Eyss heads the TickTock consortium ("Linking pathology and lifestyle to epigenetic determinants of biological vs. chronological stem cell aging") which aims to decipher epigenetic changes causal to biological aging of stem cells and how nutrition and mutations influence this process. The members of this consortium therefore aim to identify the true drivers of stem cell aging, which may form the basis for better and healthier aging in the future.
TickTock is a consortium that is funded by the Leibniz AssociationExternal link through its funding line "Collaborative Excellence". The members are Florian Heidel (Hematology and Oncology Department, University Hospital Greifswald)External link, Steve Hoffmann (FLI, Jena)External link, Tim Schulz (German Institute of Human Nutrition (DIfE), Potsdam-Rehbrücke)External link and is coordinated by Björn von Eyss (FLI, Jena).