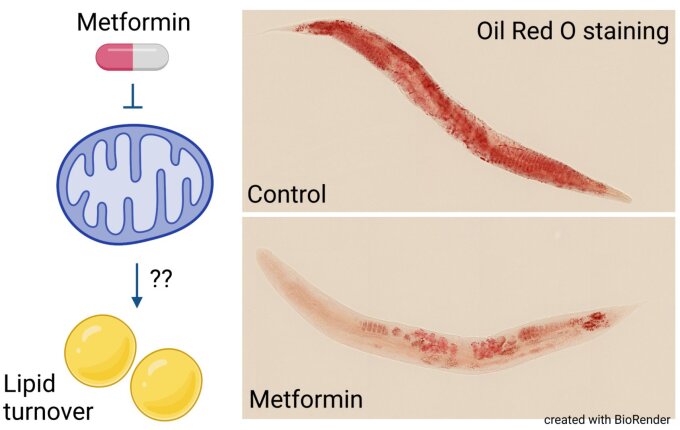 Oil Red O staining in C. elegans illustrates the lipid turnover effect of Metformin, and we aim to investigate its molecular basis.
Principal Investigator: Maria Ermolaeva
Metformin is a biguanide mitochondrial complex I inhibitor that is proposed as the longevity medicine in humans. Metformin has been used for approx. 60 years to treat type 2 diabetes, but its mode of action in healthy organisms is not fully elucidated. Previously, we showed that disruption of metabolic plasticity and loss of mitochondrial mass abrogate metformin benefits in old C. elegans worms and prevents the metformin dietary restriction (DR)-like effect in these animals  (Espada et al., 2020External link). Here, our goal is to determine the exact mechanistic connection between cell-autonomous mitochondrial inhibition by metformin and the systemic DR-like lipid turnover response to this drug. We intend to use our findings to identify the systemic metformin-triggered signaling nodes that can be activated by alternative compounds, circumventing the aging-induced decline of cell-autonomous metabolic plasticity to achieve DR-like effects independently of age. We also intend to uncover, by single-cell omics analysis of C. elegans, what exact cell types are positively affected by metformin and if the epigenetic rejuvenation effect of this medicine is present/similar in every cell type.
Our key tools in this study will be (a) nematode C. elegans, which allows the assessment of conserved aging mechanisms within 25-30 days (the average lifespan of the model), and shares approx. 70% homology with human genes, and (b) metabolic stress models in human primary cells, which will ensure the translatability of our discoveries to humans. 
Doctoral researcher: Eberechukwu Maryann Okoli