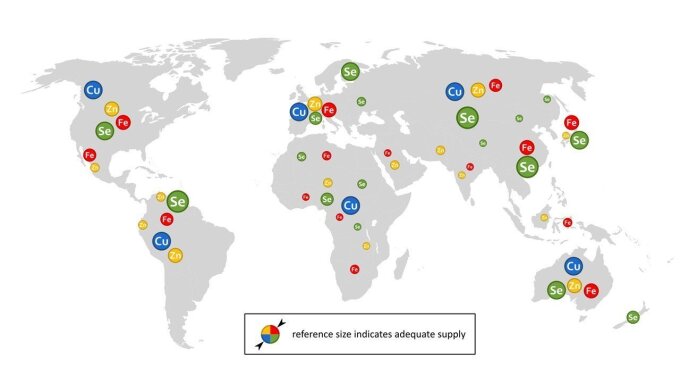 Global supply of the essential trace elements selenium, iron, copper, and zinc indicated by the prevalence of deficiency symptoms or the estimated regional trace element supply
Principal Investigator: Anna Kipp
The research group "Nutritional Physiology" led by Anna Kipp is located at the Institute of Nutritional Sciences de of the Friedrich Schiller University. A major research focus lies on the analysis of essential trace elements such as selenium, copper, and zinc and their interactions. The supply with essential trace elements is changing during life-time and aging. These changes can substantially contribute to the aging process as they modulate the immune response and can thus affect inflammaging. The other way around, inflammatory mediators can modulate e.g. iron homeostasis resulting in age-dependent anemia which could potentially be counteracted by nutritional interventions.
The research group "Nutritional Biochemistry and Physiology de" of  Stefan Lorkowski at the Institute of Nutritional Sciences of the Friedrich Schiller University Jena studies the impact of nutrients and in particular of bioactive metabolites thereof formed within the human body on the progression of aging-related diseases (particularly dyslipidemias and cardiometabolic diseases) as well as on inflammatory processes during aging. On the one hand, the response of the body to nutrients and bioactive metabolites may change directly with age or, on the other hand, aging my affect the formation of bioactive metabolites and in turn their effects. This will reveal knowledge on how dietary interventions must change during the lifespan to prevent aging-related diseases and destructive effects of inflammation.
Within the project, samples of human studies such as LIFE-AdultExternal link and corresponding data on epigenetic clocks and parameters of inflammaging will be available. In addition, samples from the Altern als Zukunft study will be used which will be generated during the project phase. The nutritional status of macro- and micronutrient such as the trace elements copper (Cu), selenium (Se), iron (Fe), and zinc (Zn) will be analyzed using their concentrations and functional biomarkers. In addition, serum concentrations of fatty acids and amino acids will be measured. Accordingly, we will clarify whether the newly evaluated biological parameters provide a meaningful replenishment of the already available clocks. Based on that, model organisms will be used to study the influence of nutritional interventions on parameters of aging and aging clocks.
ResearchGate Profile of Anna KippExternal link
ResearchGate Profile of Stefan LorkowskiExternal link
Doctoral researcher: Alina Löser
Postdoctoral researchers: Kristina Loßow, Maria Schwarz